September 23, 2018
Fire Damage Insurance Claims Tips & Advice For Dealing With A Claim
House fires, commercial fire damage, and fire damaged property are all devastating. Dealing with your insurance company and the insurance adjuster through the fire insurance claim process, during such difficult time, is often overwhelming for policyholders.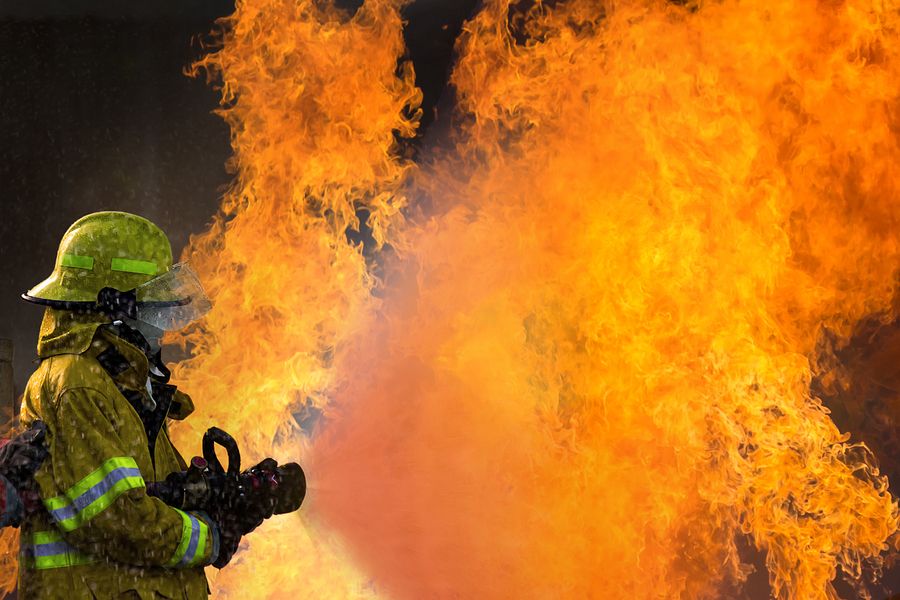 When trying to cope with the horrible loss and property damage from a fire, people often have difficulty thinking clearly while dealing with the insurance adjuster, the complexities of insurance companies, the paperwork involved in filing fire insurance claims, and properly handling the fire damage repair and restoration process. Getting adequate compensation for your fire damaged property isn't always straightforward. That said, there are some things you can do to help the insurance claim process for a fire damage claim go a little more smoothly.
Fire damage insurance claims are complex.
Insurance companies demand considerable paperwork. You may have your claim denied or reduced. Your insurance company might require you to use substandard restoration companies. A greedy insurance company might offer you a fraction of the amount you expected or deserve. Or, they could even deny your claim entirely.
Fortunately, there are ways to speed up a fire insurance claim. Using some simple tips and strategies, you can ensure your insurance claim and dealing with the adjuster goes as smoothly as possible. If you need additional assistance a public adjuster that specializes in fire damage claims can be a tremendous resource. Get in touch for a free consultation with a fire damage public adjuster to get the insurance claim help you deserve for a property fire damage claim.
Contact A Fire Claims Adjuster
There are two main types of damage that can occur during a fire: smoke damage and fire damage. We'll go over both types of claims in detail.
Fire Damage Insurance Claims
Fire can completely destroy your property. Sometimes, the fire starts in your own home. In other cases, there's smoke damage from a neighbor's fire. Or, it could be caused by a wildfire.
When fire completely destroys your house, commercial business or property, your insurance company considers it a total loss fire claim. Theoretically, this means you'll get compensation from your insurance company equal to your policy limits.
Fire damage, including damage from wildfires, is covered by all home insurance, business insurance, and commercial insurance policies. It's the most common type of loss to protect against.
You buy insurance to make you whole again after an accident or disaster. That may seem like a straightforward idea: your insurance company is required to pay whatever it costs to repair your house and possessions to pre-loss condition. After all, this is why you buy home insurance.
Unfortunately, fire insurance claims are rarely as straightforward as they seem.
Insurance companies dealing with fire insurance claims can dispute things like smoke or soot damaged carpets, for example. Your insurance company might claim these carpets can be cleaned with a shop vacuum cleaner for a few hundred dollars instead of being totally replaced.
Or, there may be water damage in your home from the firefighters. Your insurance company might claim certain parts of your home already had water damage, denying any compensation for water damage.
Many homeowners also struggle to calculate the value of their possessions during a fire damage insurance claim. Do you have receipts for everything in your home? Do you remember how much you paid for that Ikea bedroom dresser 10 years ago? Your insurance company will need to know the replacement cost of these items. If you cannot find accurate records, then your insurance company could substantially reduce the value of your claim.
A public insurance adjuster can help with all aspects of dealing with a fire damage insurance claim.
Smoke Damage Insurance Claims
Where there's fire damage, there's smoke damage. In many cases, smoke damage is more widespread than fire damage.
You might quickly extinguish a fire in your kitchen, for example. However, the smoke from that fire has already spread into surrounding rooms or into your ventilation or HVAC system. Within minutes, smoke and soot can spread to every corner of your house. Your kitchen fire insurance claim just got more complicated.
Making things worse is that smoke can be made up of harmful chemicals. Smoke and soot contains carbon dioxide, carbon monoxide, ash, and chemicals, depending on what was burned. These substances not only spread throughout your house on air currents, but they also stick to surfaces and permeate fabrics.
Smoke is made up of carbon dioxide, carbon monoxide, ash, and chemicals that vary depending on what was burned. Because smoke travels easily and tends to stick to things, smoke damage can easily be very extensive and widespread.
Because of these effects, smoke damage insurance claims can be complex and filing an insurance claim for smoke damage can get a little tricky. Be sure to also check out the 4 things to know about smoke damage claims.
If you need assistance with handling a smoke or fire damage insurance claim a licensed public adjuster can help.
How to Find and Assess Smoke Damage For Fire Claims
Many homeowners are surprised by how widespread smoke damage and fire damage can be. The insurance claim process for fire damage is typically complex and time consuming. You need to find and assess the damage to make an accurate claim.
First, understand that heat rises. Hot air pushes smoke upwards throughout your home. When the heated molecules move faster, the smoke travels more rapidly throughout your home.
Second, check everywhere in your home for smoke damage. There are obvious places to check – like carpets, ceilings, and curtains. There are also less obvious places – like the clothes in your dresser drawers that may be affected by smoke. Check the folds of your curtains, the pillows of your couch, and every fabric in your home for smoke.
Smoke particles are positively charged, which means they're naturally attracted to metal and synthetic materials. Couches, rugs, carpets, and other flat surfaces of your home could be covered in soot.
After checking the visible parts of your home, it's time to inspect your home more closely. Check your ductwork, including your heating and air conditioning systems (especially if they were running at the time the smoke damage occurred). Smoke can easily make its way inside the ducts and, from there, throughout the rest of your home.
How to File a Smoke or Fire Damage Insurance Claim
All homeowners insurance policies cover fire damage, and most policies cover smoke damage.
However, that doesn't mean the claims process will be easy. We're going to explain how to deal with an insurance adjuster after a house fire.
Generally, you can expect pushback from your insurance company at every step of the way when making fire or smoke damage insurance claims.
Once you secure the scene after fire or smoke damage, open all the windows to allow the smoky air to dissipate. Turn off your heater or air conditioner to prevent smoke and ash from circulating.
After contacting your insurance company to begin the claim, your insurance company will advise you on the next steps in the claim process.
Your insurance company might tell you to hire a fire restoration company, for example. If the damage is extensive (say, if there's a hole in your roof), then you may need to hire a 24/7 emergency restoration company.
Then, start documenting everything. Take photos of all the smoke and fire damage in your home. File proof of loss forms. Keep all your receipts from HVAC technicians and restoration crews.
Some of the biggest disputes arise over whether to clean, repair, or replace items damaged by a fire. Your insurance company might claim you can take your soot-damaged curtains to the dry cleaners, for example, instead of replacing them entirely.
If you feel your insurance company is taking advantage of you or dragging its feet, then it's in your best interest to hire a public claims adjuster.
Tips for Filing Smoke & Fire Damage Insurance Claims
Our fire insurance adjuster experts have dealt with thousands of smoke and fire damage insurance claims. Here are some of their top tips:
Keep Receipts for Everything: After a house fire, you may be forced to live in a hotel. You might be eating out every night and covering other unexpected expenses. Document all of these costs and keep the receipts. If your home is unliveable after a loss, you will be able to claim a certain amount of compensation for living expenses.
Don't Wait to File a Claim: The sooner you file a fire and smoke damage insurance claim, the smoother the claims process will be. Contact your insurance company immediately after securing the scene.
Check Bank Statements for Previous Receipts: Most people don't keep the receipts for every item in the home. However, you may be able to check old credit card statements, online bank accounts, and bank statements to prove the value of certain items.
Understand Depreciation Costs: Most insurance policies cover the value of your items minus depreciation. This can be shocking for homeowners, but it's a normal part of an insurance claim. If you paid $3,000 for your TV a few years ago, you may only receive $1,000 or less today.
Hire a Public Adjuster: A public adjuster is a skilled, experienced, and licensed professional with a proven history of winning higher insurance settlements for clients. In exchange for a small cut (5% to 15%) of the final settlement offer, the public adjuster can achieve a substantially higher insurance payout. In many cases, the public adjuster gets a settlement 2 to 3 times higher than the initial offer. This is a lifechanging amount of money at a time when you need it most.
Take Lots of Photos: The more photos you have, the more proof you have. Take photos or videos of everything damaged inside your home. Take individual photos of your damaged items. Take photos of the smoke, soot, or fire damage. Take photos of items you're throwing out.
How a Public Adjuster Can Help With The Fire Insurance Claim Process
Smoke and fire damage insurance claims are extremely common. A good public adjuster will have firsthand experience handling smoke and fire damage insurance claims to earn a higher settlement from your insurance company, even when it may be a total loss claim from fire damage.
Some of the ways a public adjuster helps include:
Investigating your claim to ensure you're claiming every possible dollar of damage according to the terms of your insurance policy
Directly negotiating with your insurance company to ensure everything is covered
Examining the damage and calculating the value of the total loss
Deciphering your complex insurance policy, then applying those terms to your smoke or fire damage claim
Determining the accurate value for all items and property in your home
Assistance preparing claims and completing proof of loss forms
Guiding you personally from start to finish through the complex world of smoke and fire damage claims
Let's face it: most homeowners have never dealt with a smoke or fire damage insurance claim. The whole process can seem foreign.
Unfortunately, insurance companies may take advantage of the naiveté of policyholders like you.
Your insurer may offer a low initial settlement, for example, or claim that certain damages are "never covered" during the average fire damage claim.
A good public adjuster helps you avoid the stress of dealing with a greedy insurance company. That means more money for your claim settlement when you need it most.
Hire a Licensed Public Adjuster for your Smoke and Fire Damage Insurance Claim
ClaimsMate is a leading public adjuster company providing insurance claim help and property damage adjusting for policyholders.
Our licensed, experienced public adjusters have firsthand experience handling smoke and fire damage insurance claims. With our help, you may be able to get a payout three times higher than the initial offer from your insurance company.
Contact us today for a free consultation and get immediate assistance for your smoke or fire damage insurance claim.