A house fire is a devastating experience. When trying to cope with this horrible loss and property damage, people often have difficulty thinking clearly while dealing with the complexities of insurance companies, the paperwork involved in filing insurance claims for fire and smoke damage, and handling the fire damage restoration process. Getting adequate compensation for your damaged property after a fire isn't always straightforward. That said, there are some things you can do to help the insurance claim process for a fire damage claim go a little more smoothly.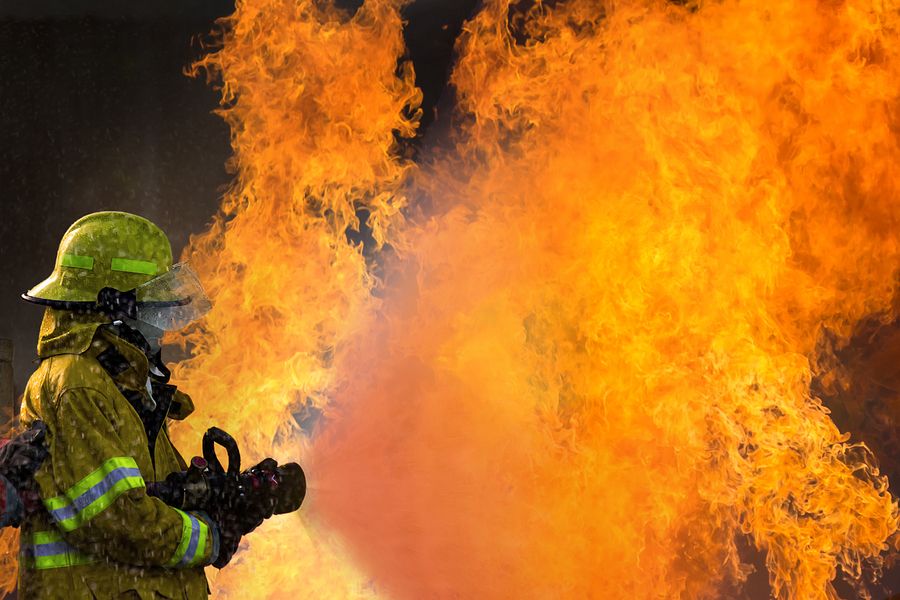 One of the key things to keep in mind is that there are two different types of damage that can occur from a fire. Each should be approached a little differently because they are not treated the same by every insurance policy.
Smoke Damage Insurance Claims
If the fire is contained and the property is not a total loss, it's not uncommon for smoke damage to be more widespread than fire damage. For example, if a kitchen fire is quickly extinguished and damage is limited to the area around the stove, smoke damage can still spread into the surrounding rooms. Possibly even the whole house.
To understand why, it helps to understand how smoke behaves. Smoke is made up of carbon dioxide, carbon monoxide, ash, and chemicals that vary depending on what was burned. Because smoke travels easily and tends to stick to things, smoke damage can easily be very extensive and widespread.
One reason smoke can cause damage that extends far beyond the immediate area of the fire is that smoke travels very easily. Usually, there will be a lot of it directly above and surrounding the items that burned in the fire. However, you'll also find additional, and often significant damage, outside and even in rooms down the hallway and on different floors of your home. Smoke is sensitive to air currents and can easily travel down hallways, under doors, and through tiny cracks that you may not have even known about.
Finding And Assessing Smoke Damage From A Fire
When it comes time to assess the damages, it's important to document absolutely everything to the best of your ability. In order to do this, you'll need to know all the places where smoke damage can hide.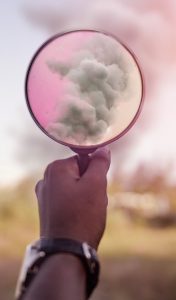 Temperature plays a huge part in why smoke is able to get into so many surprising places. First of all, heat rises. The hot, smoky air is pushed around by heavier cold air and is naturally drawn to cold areas. Secondly, heated air is more volatile. The molecules expand, move faster and are a lot more excited. Because of these factors, smoke damage will often occur behind, under, and inside of things that might surprise you.
So, what exactly does that mean for you? Don't be surprised to find smoke damage in some unexpected places. Make sure to check the insides of closets and drawers, even if they were closed during the fire. Smoke is able creep into the small cracks around doorways and get into your dresser drawers, potentially ruining your clothes, towels, and linen. Another place to check is inside of window dressings, which are cooler than the rest of the room. Look both behind and inside the folds of curtains and in between the slats of blinds. These are common places for smoke damage to occur.
The chemistry of smoke particles plays a part in where you'll find smoke damage, too. Smoke particles are positively charged. This makes metals and synthetic materials particularly attractive to them. Don't be surprised if your couch, rugs, carpets, and any other flat surfaces are covered in soot.
Another place to check is in the duct work, especially if your heater or air conditioner was running at the time of the fire. Smoke easily makes its way into the ducts and from there, throughout the rest of your home.
It might seem like smoke gets everywhere, and that's because it does! That's one of several reasons why filing an insurance claim for smoke damage can get a little tricky. Be sure to also check out the 4 things to know about smoke damage claims.
If you need assistance with handling a smoke or fire damage insurance claim a licensed public adjuster can help.
What to do after Smoke Damage Occurs : Filing Your Insurance Claim
Most homeowners insurance covers smoke damage but problems could still arise. As we've seen, smoke can get anywhere and everywhere and cover your things with soot, a sticky black residue. As far as your insurance claim goes, the first issue lies in whether or not the insurance company wants to pay for a replacement or to have the affected items and areas cleaned. Most of the time, they're more likely to pay for cleaning items with smoke damage than replacing them. Differences of opinion can arise as to what should be replaced and what can be cleaned. For example, if your curtains have been damaged by smoke, the insurance company might feel that reimbursing you for a trip to the dry cleaner is sufficient. You might feel that they should be replaced. Conflicts like this can easily arise when it comes to smoke damage. That's why the steps you take when filing an insurance claim for fire and smoke damage are so important.
Before beginning any clean-up, contact your insurance company and assess the damages. As soon as you're allowed to begin clean-up, make sure you have the proper protective equipment. In many cases you'll probably want to contact a reputable fire damage restoration company. You'll need a face mask, respirator, gloves, and eye protection. Open all the windows and allow the smoky air to dissipate so you can really see the damage. Turn off your heater or air conditioner so the smoke and ash aren't circulated throughout your house. You'll also need industrial fans to help blow the contaminated air out of you house as well as a shop vacuum cleaner to clean up any messy surfaces. If you don't want to do this yourself, you can hire professionals to come in and do it for you. It can actually get pretty complicated and there are a lot of safety issues involved. If you're also dealing with water damage from the fire being extinguished, fire restoration professionals should be prepared to take care of that damage as well.
As soon as you can, start going through everything so you can properly assess the damage. Some items will be so far gone that you'll immediately throw them in the trash. Take pictures of everything you can, especially the things that you decided to toss. Don't forget to clean off light bulbs, rewash clothes, and throw away any open food that may have had exposure to smoke, soot and ash.
Document everything. We can't emphasize that enough. Do it as you go because it's not likely that you will be able to remember everything if you wait. Good documentation should include the date of the event, where the items were located, and if any injuries occurred or other people were involved. Note the condition of the home as a whole, along with an itemized list and description of everything with damage. If you had someone come in to clean out duct work, clean the carpets, or do any other repairs or cleaning, make sure you get a receipt and any report they have written up about your case. Obtain an official report from the fire and police departments as well.
Filing claims for smoke damage is going to be an ongoing process so be patient and be prepared to defend or explain all of the damages you're claiming. Make sure you get in touch with your insurance company right away. You'll be spending a lot of time communicating with them and documentation is your first line of defense.
If you have damages that total more than $10,000 and your insurance company is unwilling to pay everything your property is worth, you should contact a public insurance adjuster. We'll get into that more a little later, but properly preparing claims and fighting for a fair settlement after fire or smoke damage has occurred is their field of expertise. They're a great resource and a surefire way to make sure you're getting all the reimbursement you deserve.
Fire Damage Insurance Claims
Where there's smoke damage, there's typically fire damage. You cannot have smoke damage without a fire to cause it. Of course there are many cases where a wildfire causes smoke damage to nearby homes, or there is a fire at a neighbor's house resulting in smoke damage to the houses nearby. But can you have fire damage without smoke damage?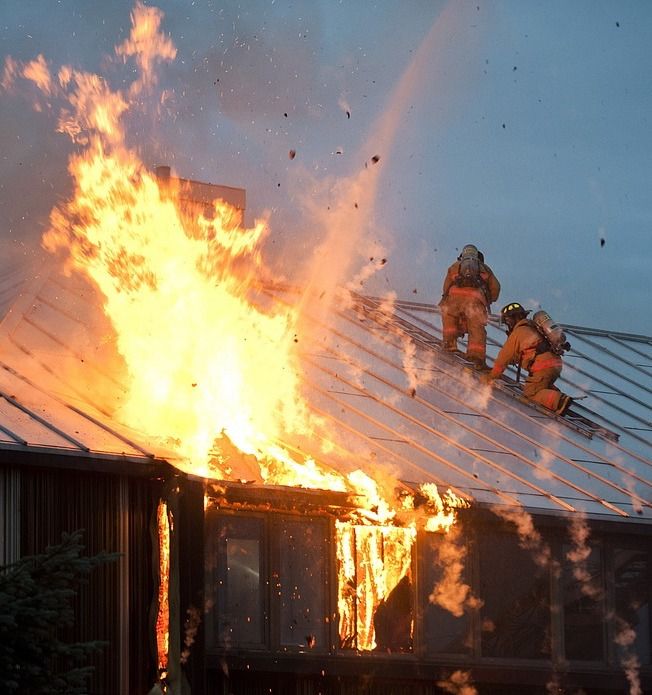 Unfortunately, the answer is yes. It's fairly common that a fire completely destroys or damages the property so much that there's nothing left to salvage. This is known as a total loss from fire damage. While this is obviously the worst case scenario and an absolute nightmare for anyone who has to live through it, as insurance claims go, this is the most straightforward situation.
Fire damage, including damage from wildfires, is covered by all homeowners' policies, commercial insurance policies, and business owner policies and is usually easier to make a claim and reach a settlement for, when compared to smoke damage. If you have smoke or soot damaged carpets, there might be a debate about whether or not they need to be replaced or just deep cleaned. On the other hand, if they've been burned by the fire, they obviously need to be replaced.
While this seems pretty straightforward, there are some places where it can get a little tricky. Some insurance policies provide cash value rather than replacement cost. What does that mean? They'll take into account depreciation and reimburse you for what items were actually worth today rather than what you paid for them in the past or what it would cost to replace those items today. This places an extra burden of proof on the homeowner. It can be hard to locate any records documenting how much you paid for things in your home if all of your records were damaged or destroyed in the fire.
It's really important that you make an accurate list of all the items that are damaged in the fire. If no receipts or other records exist, going through credit card and bank statements can be helpful with collecting on losses of large purchases like appliances or furniture.
Another thing to remember is that claims for damage from fire, smoke, soot, or ash, are made to replace the damaged property and only the damaged property. An insurance claim settlement would typically be for replacing items with ones that match or are similar in quality and value. For example, if you had a kitchen fire that ruined your countertop and cabinets, your insurance may cover the replacement cost of cabinets comparable to the ones you lost. If you decide you want to upgrade to real maple cabinetry and marble countertops, your insurance company is not going to cover the full cost. You will get money for the value of what you lost, but anything over that amount will not be covered under your policy.
One very important part to remember is to photograph the damage to your home or property extensively as soon as you can. This includes any items that have already been removed and thrown in the trash. Describe the damage that happened to your walls, furniture, tiles, and paneling, too. Unfortunately, it's up to you to prove the extent of your losses. Any documentation that helps you do so will move your claim along a little faster.
As with smoke damage, enlisting the help of a public claims adjuster for fire damage can be extremely beneficial, too. Public adjusters have a lot of experience deciphering complex insurance policies, investigating claims, presenting claims and completing proof of loss forms. They are able to put your case together with the evidence you'll need to recoup the most in damages.
Tips for Filing Smoke & Fire Damage Insurance Claims
A house fire is one of the most devastating things a person can experience. If the fire is not extinguished quickly, it's possible that you could suffer a total loss. On the other hand, even if it can be contained to one area or one room, the resulting soot and smoke damage can permeate the rest of your home, potentially ruining everything from your furniture to your clothing.
Regardless of how extensive the damage, dealing with the aftermath of a fire is stressful enough. You're emotional, anxious, and trying to figure out how to put things back together and begin the restoration process. On top of all that, you're going to have to deal with your insurance company to try to recoup the damages. Often, this is something that needs to happen before you can move forward. Here's a quick summary of how to make this process as painless as possible.
1. Document everything. As we've discussed, this is of the utmost importance.
2. Get in touch with your insurance company right away.
3. Get receipts, records, and reports from any service that comes into your home to-do work. This can include fire, smoke, and water restoration services and cleaning or contractors repairing any damaged walls, tile, cabinetry, etc.
4. Hire a public adjuster. If you feel overwhelmed or feel like your insurance company is giving you the run around and not offering a fair settlement for the damages, a public insurance adjuster can help maximize your claim while eliminating some of your burden and confusion.
One other very important tip: make sure you continue to pay your insurance premiums. You don't want there to be any reason for there to be a lapse in coverage when you're trying to get reimbursement for damages.
A house fire is a harrowing experience. Knowing how to approach and handle your insurance claims can help resolve this tragedy a little faster so you can move on towards full recovery. Remember, if you need help with your insurance claim a public adjuster can provide expert guidance.