May 6, 2019
Our Best Burst Pipe Insurance Claim Tips For Water Damage Claims
Dealing with a burst pipe insurance claim can be frustrating. A burst pipe can quickly cause thousands of dollars in water damage. Making matters worse, some insurance companies will refuse to cover certain burst pipe damages. This has lead to many questions about whether homeowners insurance covers pipes that burst or water damage from broken pipes.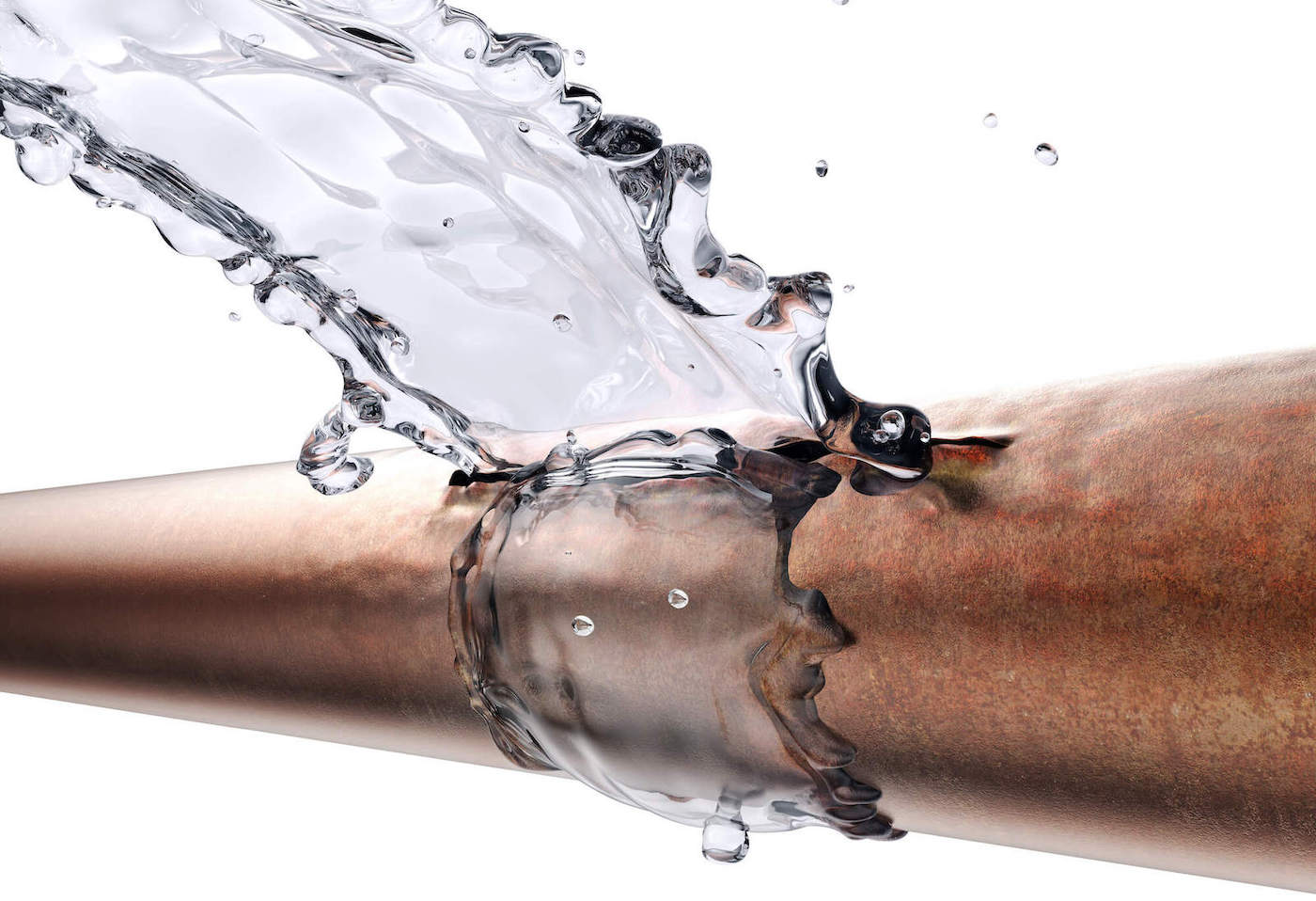 Today, we're providing the best burst pipe insurance claim tips and explaining everything you need to know about burst pipe insurance claims, including how to handle claims, how to maximize your insurance payout, and how to proceed with the claim process to have burst pipe water damage covered by insurance.
Top 6 Signs a Pipe Has Burst in Your Home
A burst pipe isn't always as dramatic as it sounds. In some cases, a burst pipe may start with a small leak. This leak from a broken pipe can go unnoticed for days or months, causing significant water damage by silently filling your home with moisture and mold. The sooner you spot a burst pipe, the sooner you can limit damages from water. Here are six early warning signs indicating that a pipe has burst in your home:
Listen: Do you hear a bubbling, whistling, banging, or clanking sound when turning on the water in your home? Do your pipes make a funny noise when flushing the toilet or turning on the sink? If so, then it could be the sign of a broken pipe.
Strange Odors: A burst pipe can often cause strange odors in your home. Do a sniff test when using your pipes. Is there a strange odor coming from your sink or toilet when you flush it? Does your washing machine have an odd smell when it fills with water? All of these could be signs of a burst pipe.
Look for Water Damage and Discoloration: Water damage can be found on our ceilings and walls. It might appear as a small discoloration mark at first before turning into a bigger, more noticeable mess.
Bulging: Your walls and ceilings could start to bulge after being affected by water damage. Watch for unusual bulges in your walls, as they could be the first signs of a serious burst pipe problem.
Higher Water Bill: One of the most obvious signs of a serious burst pipe problem is a higher-than-usual water bill. If your water bill has suddenly skyrocketed, then it could mean you have a burst pipe.
Low Water Pressure: A burst pipe can lower the water pressure throughout the rest of your house. If you suddenly notice a lower water pressure when showering, bathing, or using other plumbing, then it could indicate that a pipe has burst or is broken.
Certain times of the year are more prone to burst pipes than others. Pipes may freeze in the winter when temperatures plunge, for example, causing cracks and leaks.
How to Handle a Burst Pipe Insurance Claim
Discovering a burst pipe in your home can be a scary experience. Sometimes, it's a long, slow leak that has caused significant damage over time. In other cases, a burst pipe is an emergency water damage situation that requires immediate action.
With plumbing throughout a house there are many opportunities for a broken or burst pipe to cause damage. You may experience a burst pipe under the house or in the basement, or a slow leak behind a wall from a broken pipe.
These various situations may leave you wondering if homeowner's insurance covers pipes that burst or water damage from a broken pipe. Typically, homeowner's insurance does cover water damage from burst pipes. However, this will always depend on your specific insurance policy and the exact scenario with the broken or burst pipe. Generally, the water damage caused by a pipe must be sudden and accidental for coverage to apply. So, a burst pipe would usually be covered, but a slow leaking pipe that went unnoticed may not be covered.
If you need help figuring out coverage for your exact situation with water damage from a leak, broken pipe, or a pipe that burst, a licensed public insurance adjuster can evaluate your policy language and claim situation to provide industry expertise for your specific insurance claim.
Whatever type of burst pipe problem you are dealing with, these tips for filing a burst pipe claim should help:
Step 1) Call your Insurance Company
Your insurance company understands that you need to move fast when handling a burst pipe insurance claim. If you contact your insurance company and explain the situation, then they will typically recommend several local water damage remediation and restoration companies, including 24/7 emergency services that can arrive on-site to fix your water damage problem.
Step 2) Get the Situation Under Control
The water damage remediation company should arrive on-site quickly to tackle the problem. Typically, the water damage remediation company will take over damage control from here. They can turn off your water (if you haven't already done so). They can setup fans and other equipment to dry out your home and prevent mold.
Step 3) Contact a Public Adjuster or Independent Contractor
At this point, some homeowners choose to contact a public adjuster or an independent contractor. A public adjuster is often your best course of action as they will interpret your insurance policy and find the appropriate coverage for your situation. An independent contractor can assess the damage to your home, then provide a fair estimate for a burst pipe repair cost based on that information, but based on most state laws they are unable to fight your insurance company for full coverages allowed by your policy. Only a licensed public adjuster can negotiate with the insurance company on your behalf, fighting for every penny owed to you under the terms of your insurance contract.
Step 4) Begin the Remediation Process
At this point, the restoration company can begin restoring your property to its pre-loss condition, cutting out mold-damaged walls and fixing your burst plumbing.
Step 5) Finalize your Insurance Claim
Your insurance company is required to compensate you for the cost of restoring your home to pre-loss condition. Your insurance company will send a claims adjuster to assess the damage, identify the root cause of the damage, and type up a claim.
In some cases, the insurance company will approve some repairs, but not others. The insurance company will cover whatever damage was legitimately caused by your burst pipe, but they might dispute other damage – like pre-existing problems with your home, which they are not required to cover.
Step 6) Maximize your Insurance Claim
Remember: insurance companies often offer a low initial settlement hoping that the homeowner will avoid disputes or negotiations. The insurance company often assumes that the policyholder is not going to ask for additional coverage or negotiate the claim.
This is where a public adjuster can be worth his or her weight in gold. A public adjuster evaluates your claim and negotiates with the insurance company on your behalf to ensure everything is covered. The goal is to maximize your insurance company payout and secure the highest possible settlement for the client. Public adjusters know the industry better than anyone, and most have handled hundreds of burst pipe claims in the past.
More Tips for Maximizing a Burst Pipe Insurance Claim
A burst pipe insurance claim can be a hassle. Insurance companies often drag their feet at covering certain damages. Here are some tips for maximizing your insurance payout with a burst pipe claim:
Document Everything: The more photos you take, the better. Make a list of all damaged inventory and the approximate values. Take photos of all water-damaged furniture, items, possessions, and other materials. If you don't have proof an item was damaged by the burst pipe, then your insurance company may refuse to cover it.

Don't throw anything away until your insurance company has approved it to be replaced.

Negotiate the Claim: Before you accept the quote from your insurance company, consider hiring a public adjuster to assess the damage. Make sure you are receiving fair value for your burst pipe damage repairs. Even after you accept a quote and receive a check from the insurance company, you can still go back and re-negotiate – say, if you find repairs or fees that were overlooked in the recovery process, or if you forgot to include certain damaged items.
Use All of Your Coverage: Homeowners insurance doesn't just cover the cost of repairing your home to pre-loss condition. It can also covers things like meals, transportation, and lodging reimbursement when your home is in unlivable condition. In the insurance industry these are called additional living expenses. A burst pipe problem may force you to move to a hotel for a week. You may need to dine out for meals. Keep track of all expenses during this period. Make sure you use all of your home insurance coverage. After all, you're paying for it.
Conclusion On Dealing With Burst Pipe Water Damage
Water damage from a burst pipe is the second most-filed insurance claim in the United States. The average residential claim for a burst pipe is approximately $10,000. When a pipe bursts in your home, follow the guide above to ensure you manage the claim efficiently while securing the maximum possible compensation from your insurance company.